74 points
Imagine instead of the fabulous casting of Johnny Depp to play Captain Jack Sparrow, Colin Farrell played the well loved character.   Having trouble visualizing? Hopefully not anymore.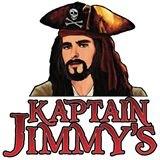 What does this have to do with Opa-Opa's Red Rock Amber?  Well, it just so happens that the rogue pictured to the left is the namesake of the restaurant where the ale first caught our attention.
Actually, it's how we've been introduced to the majority of Opa-Opa's brews.  The Kaptain's (as we call it) is part of the brewery's restaurant family.
Not to get sidetracked, but we highly recommend a visit to this establishment… especially on a Monday, Tuesday, Wednesday or Saturday if, like us, you enjoy a good meal at a value price.
Anyway, back to matters at hand.  Red Rock Amber seemed the perfect fit for our October Open Tasting.  A more traditional ale that balanced well with the evening's other offerings.   Also, at a reasonable price per 12 pack, it would help to offset the cost of the slightly pricier micro-brews.
We knew Red Rock was a decent offering from our past experiences at The Kaptain's.  We knew it wasn't going to race to the top of our rankings, but it wasn't a brew that would end up in the basement either.  Still, we wondered, just where would our large panel place this ale on our tasting spectrum?
The entire panel rated appearance positively, noting a reddish-amber hue.  Panelists were disappointed with the lack of head and lacing from the pour.  Still, the strong color seemed to make up for the beer's other visual limitations.
The panel was pretty consistent in their use of the word apple to describe Red Rock's smell and taste.  The ale seems to have an almost Saisonish (yeah, I just made that up) smell, with a vinegary tartness coming through in the aroma.
But, let's face it, you're not cracking a beer open to sit there and smell it all night. So, what did the panel think about the taste experience of Red Rock?
The flavors noted were brown sugar and apple.  "Sour" and "watery" were both used to describe the apple flavor.  Some panelists thought the taste fell a bit flat.  Even still, taste averaged out at a respectable 22 points of 30.
Aftertaste was deemed to be slightly bitter, with several panelists noting a metallic finish.   Almost all were in agreement that the beer had a strong mouth drying effect.  Averaging close to 15 points, aftertaste wasn't hurting Red Rock's chances of scoring within the respectable range.
Drinkability scores were good, with panelists thinking that two Red Rocks would probably be the limit of their drinking experience.  As one panelist put it, this ale seems to be missing the "wow" factor that would send it to another level.
So, is Opa-Opa Red Rock Amber a very good beer?  Why yes, it certainly is.  But, is it a great beer?  Perhaps that question should be saved for your next trip to Kaptain Jimmy's,  preferably on a Monday or Wednesday night when a burger and Red Rock will cost a mere $5.55.
Great?!  Try out-freaking-standing!
(Appearance 7.4, Smell 6.9, Taste 22, Aftertaste 14.8, Drinkability 22.9)
Continue reading Opa-Opa Red Rock →